On Tuesday, the Tampa Bay Rays announced their 40-man Wildcard roster, which you can see (and read about) below. While the roster welcomes back Ji-Man Choi and Yandy Diaz from the Injured List, there is also an exciting surprise.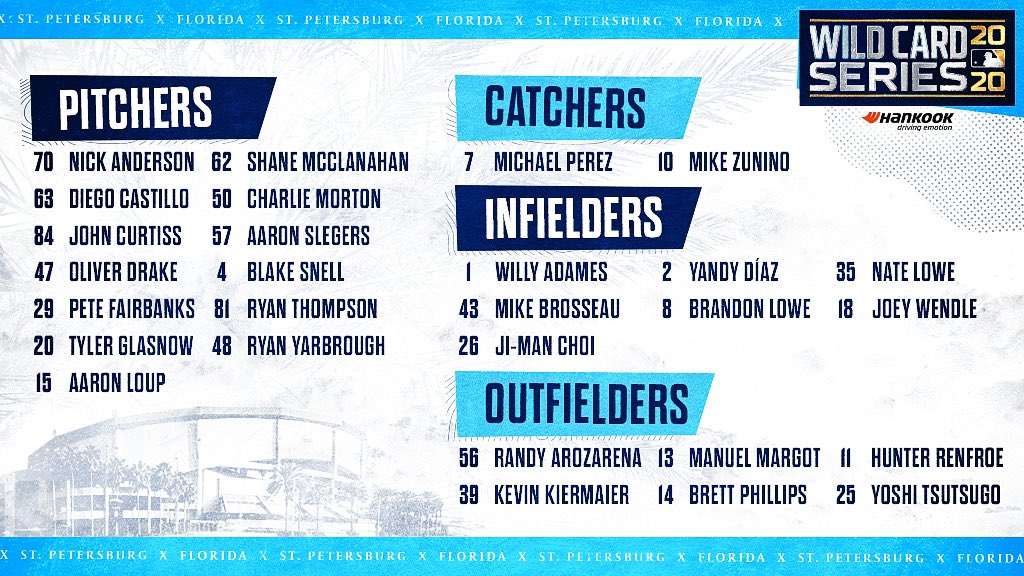 Both Diaz and Choi had shown plenty of improvement over the past several days, so their return is neither surprising nor remarkable in the sense that it was expected. Let's be honest, how great would it be if Yandy regains some of that 2019 Wildcard swagger?
I digress.
The biggest surprise on the 40-man roster is the addition of "Sugar" Shane McClanahan, one of the team's first round picks in 2018 draft. McClanahan had been at the alternate site, in Port Charlotte, throughout the summer, and has made just four appearances above the A-ball level.
McClanahan boasts a fastball that reaches the century mark (but consistently sitting at 95 mph – 98 mph), a slider, and a changeup. He's also able to throw multiple innings and Toronto hasn't seen him before. He is one of the 10 relievers on the opening round roster.
As Neil Solondz (Rays Radio) writes, "Diaz has been out since September first, and in the interim, the team's walk rate, which led the AL at the time, dropped significantly, and the team's strikeout rate went up. Choi has been out since September 12th, and while not as impactful as Diaz, had been coming around at the plate. Diaz had a .428 on-base percentage to lead Tampa Bay. Against Toronto this year he was particularly tough, going 9-for-25 with 12 walks and just three strikeouts." Curiously enough, he is not in the starting lineup tonight.
With the return of Diaz and Choi as well as the addition of McClanahan, catcher Kevan Smith, and pitchers Josh Fleming and Ryan Sherriff did not make it. They, however, are still eligible for future rounds. To place Shane McClanahan on the 40-man roster, Sean Gilmartin was designated for assignment.
Pitchers (13): Nick Anderson, Diego Castillo, John Curtiss, Oliver Drake, Pete Fairbanks, Tyler Glasnow, Aaron Loup, Shane McClanahan, Charlie Morton, Aaron Slegers, Blake Snell, Ryan Thompson, Ryan Yarbrough.
Catchers (2): Michael Perez, Mike Zunino
Infielders (7): Willy Adames, Mike Brosseau, Ji-Man Choi, Yandy Diaz, Brandon Lowe, Nate Lowe, Joey Wendle
Outfielders (6): Randy Arozarena, Kevin Kiermaier, Manuel Margot, Brett Phillips, Hunter Renfroe, Yoshi Tsutsugo
Rays 9/29/20 Starting Lineup
Tsutsugo DH
B. Lowe DH
Arozarena LF
N. Lowe 1B
Adames SS
Wendle 3B
Margot RF
Kiermaier CF
Zunino C
Noteworthiness
— You can read about the Wildcard series in our preview.